Lacey's Story
"I love her already."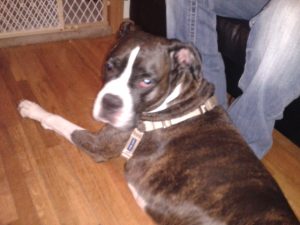 That was the first thing I said when I saw her. She was a beautiful, brindle boxer with dominant stripes that gave her the appearance of being almost black. As she got out of the car, her nose led her uncontrollably around our front yard like a dog on a mission. She was excited, but noticeably scared, for her past was a little sketchy. Boxer Rescue recovered her from a puppy mill a year and a half before and placed her with a loving owner. Unfortunately, she was no longer able to keep her and had to find a new home for little Lacey. That's where my girlfriend, Alicia and I came in.
All it took was a picture to convince me…a Facebook post. Alicia wouldn't stop talking about this boxer that needed a new home before they had no choice but to give her up to a shelter. I was a little hesitant to get another dog after my old boxer, Misty, died almost two years prior.
"I don't think I can ever get another dog" I said. "Don't even show me the picture."
The thought of a new boxer kept circling in my head for a few days until I finally let my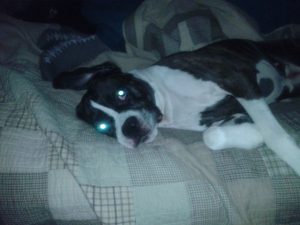 guard down.
"Well…just let me look at the picture once."
A few days later, Lacey was on her way to her new home. We waited with anticipation as the car pulled in front of our house. As I helped her previous owner, Sandra, unload Lacey's belongings out of the car, I realized how much she truly loved her dog and must've really had no choice but to give her up. I have never seen a dog come with so much luggage. I laughed as I hauled multiple loads of toys, treats, food, dishes, beds, food bins, and even a cookie jar into our home.
Her first day with us came with a warning. Being a puppy mill dog, Lacey had a few behavior issues. She loves people to death but CANNOT get along with other animals. Sandra explained this to us as gently as she could as she handed us the leash.
"Before I leave, I do have to tell you about our bird. You see, we had this bird…"
"Had?" Alicia asked.
"Exactly."
Apparently Lacey devoured their bird one day when they weren't home, leaving a trail of feathers scattered around their home. I took this pretty seriously, as we already had a cat that was not too fond of dogs. He barely tolerated our last boxer. This should be interesting.
Within two minutes of her being in our home, our cat had his first near-death experience as Lacey lunged toward him, only to be pulled back by us. We didn't think it would work out. How can we possibly have two animals with big personalities co-exist in the same home without it ending badly?
After Lacey finally calmed down, she started to show us how shy and timid she was. I've had other boxers, and this wasn't quite right. She must've had a rough upbringing. She wouldn't even jump up on the couch or bed. If you have a boxer, you know how weird this is.
As we went to sleep that night, Lacey didn't try to follow us into the bedroom, whine at the door, or even make a sound. She slept in the living room by herself. I was starting to wonder if she was going to ever feel comfortable living with us.
I figure the best way to measure her comfort level with us is how she acted every night when we went to sleep. The first night she stayed in the living room. After about a week or so, she started quietly whining outside of our bedroom door for a few minutes each night. After a month or two went by, she now kicks our bedroom door open like she owns the place, jumps in between us in bed, hogs the covers, farts and drools all night long. Welcome home, Lacey.
She indeed has found her new, and last, home with Alicia and myself. Although she has a few behavior issues (can't bring her around other dogs, she runs when off leash), we wouldn't trade her for any other dog. I have to be thankful to Boxer Rescue and her previous owner, Sandra for providing us with our newest member of our family.
As of June, 2014, Lacey is still happy and healthy, sleeping in luxury on our couch and bed.
P.S. She is now terrified of our cat.